Here is a guide to help you put together a flattering and authentic Japanese look.
Hair, makeup and accessories
Keep hair color natural. Unnatural colors will make you look like you are cosplaying.
If your hair is longer than shoulder length, make sure you can tie it up if you need to.
Bobby pins or snap clips work well to keep side swept bangs in place. These can be neutral for a classic look or cute colors if you want.
"No makeup" makeup, or bare faced, looks best. The object is to create a youthful appearance.
In general, stay away from piercings. Piercings are not common in Japan.
Tattoos also are not worn by the majority of Japanese people. If you have tattoos on your arms or legs, cover them with concealer for this look.
Essential Pieces
Shirt style
Several types of shirts are permissable for nanchatte. These are:
1. White polo shirts
2. Sailor-collar tops
3. Button-up collared blouses
Shirts must always be collared. They must be of the classic dress style and not patterned, embroidered, or have special detailing. Buttons should be plain. Shirts should not be or look wrinkled.
Blouse color
Blouses should be white. Traditional Sailor-style jacket tops can be black or navy blue.
Skirt Style
The skirt should always be pleated and worn at the natural waist. The style of pleats for Japanese uniforms is side pleats (or "knife pleats"). Box pleats, such as those found in cheerleading uniforms, should be avoided. Avoid side-pleat skirts that have the tops of the pleats (hip area) stitched down. Many uniforms in America have these, but the ones in Japan do not. Stitching the pleats down changes the look of the skirt by not allowing it to flare out or sway with body movements.
Skirt Color
Stick to neutral solids and plaids.
Skirt Length
Any length is appropriate as long as it is flattering to your legs.
Skirt Length Chart:
Knee-length: 50cm
Sock color
Socks should be solid white, solid black, or solid dark blue. Avoid other colors. Socks may have a stitched logo but should not have writing, patterns, or anything else on them.
Sock style & length
Sock style can vary with your aesthetic. All lengths of socks are appropriate - pick the ones you like the most.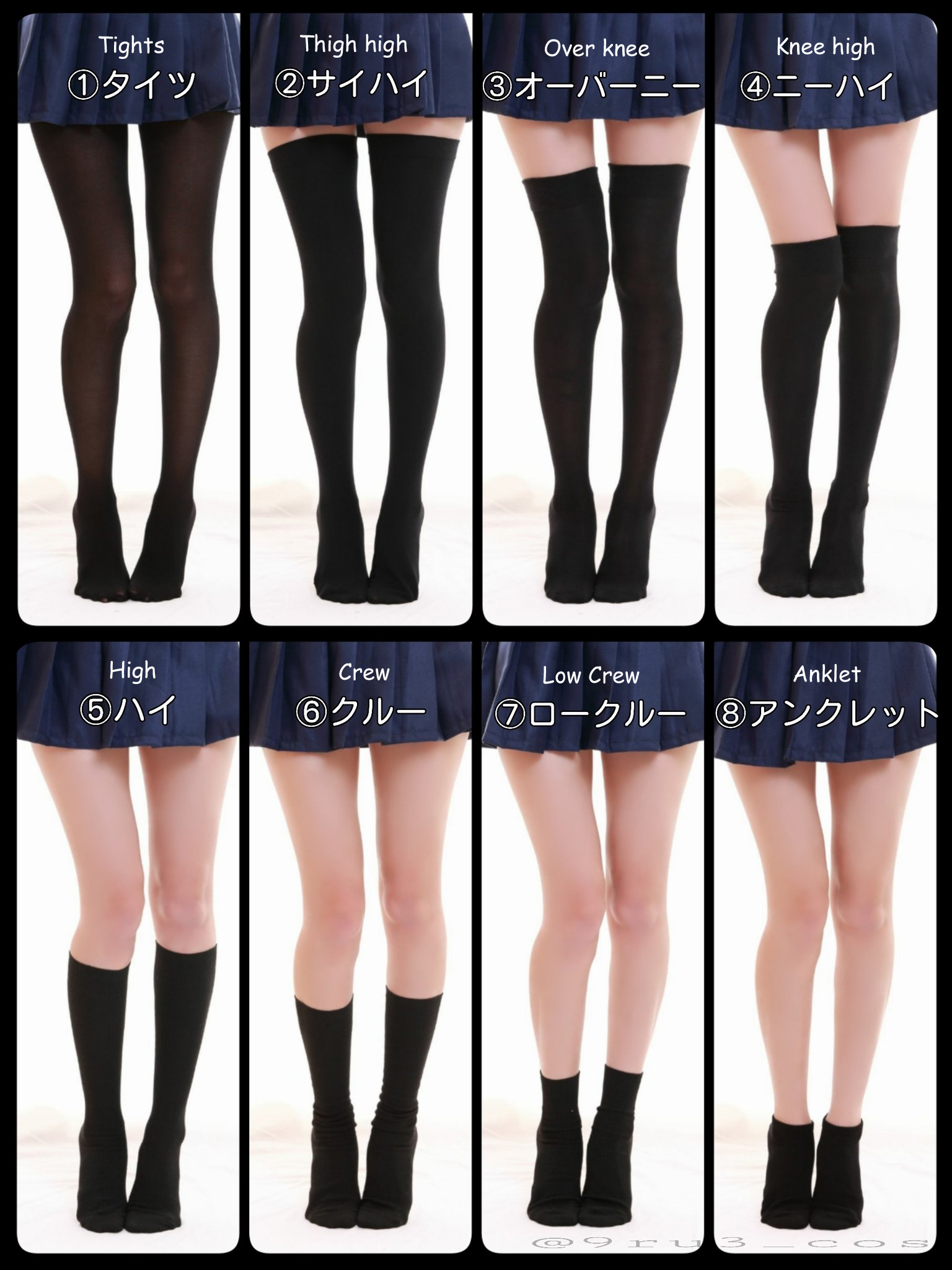 Use sock glue to keep socks from slipping down as you walk.
Shoe style
The standard summer shoe is the loafer.
Sneakers may be worn as part of a dressed-down or sporty look.
Plain sheepskin boots, such as Ugg brand, may be worn in winter.
Shoe color
Loafers should be black, burgundy, or tan. Avoid ones with contrast stitching.
If you wear sneakers, try to stick with neutral colors so that they do not clash with your uniform and detract from your look.
Sheepskin boots may be tan or black.
Cardigans and Vests
Cardigans and vests may be cotton or wool-blend depending on the season. They can be both be button up or pull-over. The neckline should always be V-neck. Buttons should be plain, ideally the same color as the material. Cardigans should have pockets. Edges such as sleeve ends, pocket tops, and the bottom of the piece should be ribbed. Neutral colors and pastel colors are acceptable as long as they are solid (no patterns). The piece should match or compliment the skirt color.
Ribbons, ties, and bows
A variety of these are acceptable. Colors and patterns should compliment or match the skirt. Avoid colors that are too similar to the cardigan or vest.
School bag
There are two basic rectangular school bag styles: the nylon canvas sports bag and the leather bag. These usually have two handles but also have d-rings for a cross-body strap.
A nylon canvas Western style backpack with padded shoulder straps may also be worn for a more modern look. All black works best.
It is best to avoid
randoseru
if you do not want to look like a young child
Optional Additions
Bag charms
Many girls in Japan like to add a cute plush toy or keychain to their school bag. This works well with the Kogal style but can also add a point of interest to a more classic look.
Bag patches
Similarly to charms, a few cool patches on your school bag can elevate your look. Just stay away from the
ita bag
look since that is more of a Harajuku streetwear fashion.
Loose socks
You can swap your normal socks for loose socks if you want. Baggy socks were popular in the 90s and early 2000s.
Sweatshirts and hoodies
Some girls like to wear an oversized sweatshirt or hoodie over their uniform rather than a cardigan. It gives a more relaxed street feeling. Make sure to buy men's sweatshirts for this look, because women's are usually more tailored.
Here are some examples of how you can customize your look with sweatshirts and hoodies.